Wetsuit Changing Poncho
M&S Hooded Surf Towel
Velvet / Terry Cotton
Sale price

$94.90

Regular price
Shipping
calculated at checkout.
FREE SHIPPING for order more than $100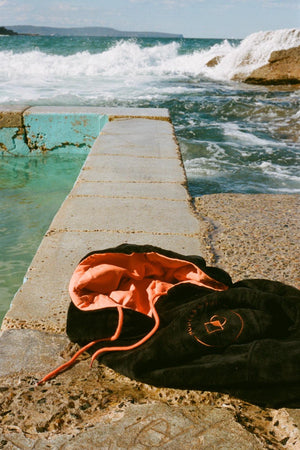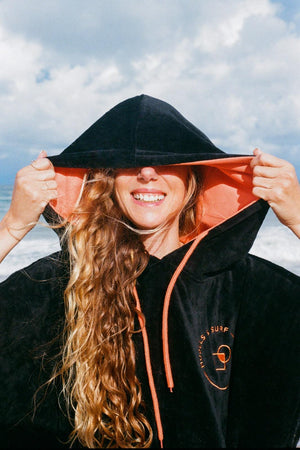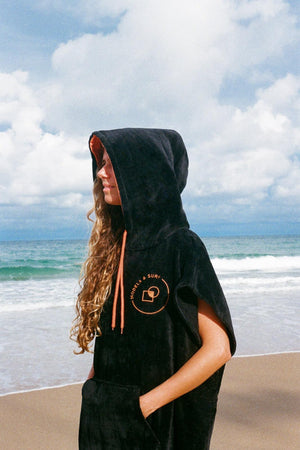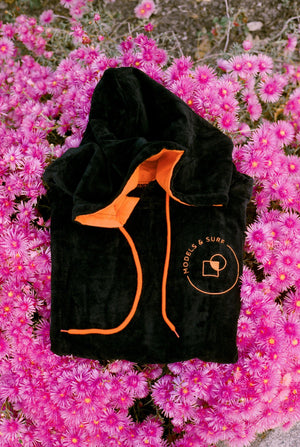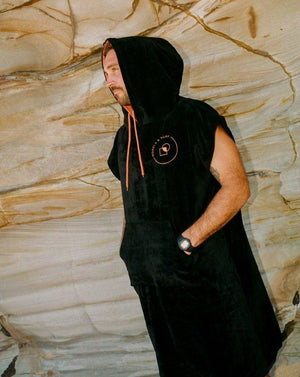 Hooded Surf Poncho Towel
Introducing our new Hooded Surf Poncho Towel - a unique blend of style, comfort, and practicality that you simply cannot afford to miss out on. Its distinctive features and premium construction make it the perfect companion for your next beach trip, pool day, or surf session.
The Hood
The hood of this poncho is luxuriously lined with orange/pink suede microfiber fabric. This isn't just a color or fabric choice; it's an experience in comfort. This unique material boasts an impressive balance between plush softness and high absorption, ensuring you can dry off quickly while staying cozy and comfortable.
Premium Velvet Fabric
The exterior is constructed with Premium Velvet Fabric, a material revered for its unparalleled softness and smooth texture. This fabric isn't merely tactilely pleasing; it's a decadent indulgence, a velvet caress that will envelop you in warmth and comfort. Its high-quality build enhances the poncho's aesthetic appeal and ensures durability for long-lasting use.
100% Cotton Terry Cloth
Inside the poncho is a 100% extra absorbent Terry Cotton interior. This isn't just any fabric - it's hypoallergenic, meaning it's kind to every skin type. It also absorbs moisture more effectively than standard cotton, making it perfect for a quick dry-off after a swim or surf.
Hood String
The poncho is completed with an orange/pink-coloured hood string, mirroring the hood's vibrant inner lining, offering an unexpected pop of colour and a sporty touch that elevates the overall design.
Kangaroo Pocket
A spacious kangaroo pocket adds to the poncho's practicality, providing a convenient place to store your belongings, keep your hands warm, or stash away your seashells.
Weighing in at a sturdy 340GSM, this poncho has substance. It's designed to withstand the rigors of regular use while remaining lightweight enough to throw in your bag on a whim.
Sizing
With a generous length of 110cm and a chest width of 75cm, this poncho offers ample coverage for various body sizes, ensuring comfort and modesty whether changing in public or simply trying to stay warm.
Summary
Embrace the luxury and practicality of our Hooded Surf Poncho Towel - the perfect accessory for beachside adventures. It's not just a towel; it's a statement of style, a commitment to comfort, and an investment in quality.
The Hooded Surf Poncho Towel features:
The hood is lined with a luxurious orange/pink 

Suede Microfiber Fabric

The exterior is constructed with Premium Velvet Fabric, known for its unparalleled softness and smooth texture.
The interior is made of 100% Extra Absorbent Terry Cotton, a soft and hypoallergenic material that absorbs moisture effectively.
Hood String in Orange/pink Colour
Spacious Kangaroo Pocket

Weight: 340GSM
Length: 110cm 
Chest: 75cm 
100% Cotton Terry Cloth
The Terry Cloth is a 100% cotton fabric woven that is very absorbent due to its design; It's composed of two yarns in the warp and one yarn in the weft, creating a weaving style that generates loops of very absorbent thread. The material is known for its porous, soft, and hypoallergenic qualities.
Premium Velvet Fabric
Velvet fabric is one of the sleekest, softest manufactured materials ever engineered.  The soft, smooth fabric epitomises luxury with its velvety nap and shiny appearance.
A variety of fibers, including silk, cotton, wool, and synthetic materials, make the velvet fabric. It is characterised by a dense pile of evenly cut fibres that have a smooth nap, which gives the fabric a distinctive texture and appearance.
Velvet has been an institution in fashion design for years, known for its rich, opulent feel and elegant drape; Its high-end feel and appearance make it an ideal textile for elevated design in fashion and interior design items.
Suede Microfiber Fabric
Suede microfiber fabric is a synthetic fabric made with ultra-fine microfiber yarns woven together that mimics the look and feel of suede leather and create a soft, velvety surface.
Suede microfiber is typically lighter, more breathable, and more reasonable than real suede leather, and it is also easier to care for and maintain. Overall, suede microfiber fabric is a popular alternative to real suede leather due to its similar look and feel, as well as its durability, versatility, and beauty!
Customer Reviews
02/07/2023
James C.

Australia
Hooded towel
Great item. Fabric is good quality. Draw string for hood bit poor quality is only comment.
01/05/2023
Kylie

United States
A Stylish and Practical Surf Poncho
The interior hood is made with orange suede microfiber fabric, and the outside is made with premium velvet fabric, making it both comfortable and stylish to wear. The 100% extra absorbent terry cotton inside is also a great feature as it will help to dry off quickly and is hypoallergenic, making it suitable for people with sensitive skin like me! The spacious kangaroo pocket is a convenient feature for storing personal items. The weight and dimensions of the towel make it a good size for most people. Overall, it sounds like an excellent product for anyone who enjoys spending time in the water.
10/26/2021
Neil

Australia
Super Quality
Very high quality item and it comes with a little gift for my daughter too! Thank you!